One needs very often to sit with himself:
He gives account of himself and searches his inner self, observes his behaviour and settles accounts, so he would be in continual wakefulness. This self control and observation are necessary for everyone, no matter how elevated his spiritual life may be and no matter how high his position is. Therefore St Paul the Apostle wrote to his disciple Timothy the Bishop saying: "Take heed to yourself and to the doctrine. Continue in them, for in doing this you will save both yourself and those who hear you" (1Tim 4:16).

Therefore the devil tries with all strength to prevent the spiritual person from sitting with himself, and he also prevents the sinner...
How easy it is to present many distractions, the importance of which would occupy all his time and control his feelings. And if the spiritual person was attached to the Kingdom of God, the devil can keep him busy with service and its needs till service occupies him and he will never settle down to think about his mistakes within the service. It is like the older brother who did not rejoice for the return of his brother and said to his father: "Lo, these many years I have been serving you; I never transgressed your commandment at any time, and yet you never gave me a young goat, that I might make merry with my friends!" (Lk 15:29). There is no doubt that this son who served all these years, if he sat with himself, would have discovered his many wrong doings, whether in his dealings or in his manner of speaking or in his love to his brother and his respect to his father...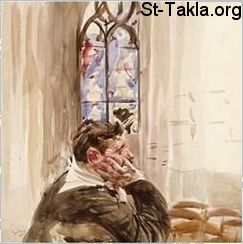 Therefore blessed son, do not let the preoccupation of service stop you from sitting with yourself, and giving an account of yourself.
Does not service, sometimes, stop you from praying, reading and contemplating?! Don't you sometimes while serving, think of yourself more highly than you ought to (Rom 12:3). Don't you sometimes, while serving, fall into the sin of judging others and at times with a cruel heart, under the
pretence of defending the truth?!... And so many more... Sit with yourself and examine it for fear of saying: "...Lest, when I have preached to others, I myself should become disqualified" (1 Cor 9:27). Or lest you hear the Lord's saying to Martha: "...
You are worried and troubled about many things, but one thing is needed" (LK 10:41,42).

You need to sit with yourself to know your mistakes...
Whether they are mistakes of the tongue, the thought, the senses, feelings of the heart or mistakes of the body... in order to know your mistakes against God, against people and also against yourself...
Nevertheless, to study your constant characteristics that have not changed... It is also to know the sins that are disguised in the form of virtues and you may be proud of them!! Sit, my brother, with yourself and remember the saying of the Great St Macarius:
"Judge yourself, my brother, before they judge you..."
---
©

st-takla.org

:

Saint Takla Haymanout Website:

General Portal for the

Coptic Orthodox Church

Faith, Egypt

/ Contact us at:
Bible | Daily Readings | Agbeya | Books | Lyrics | Gallery | Media | Links | Contact us
https://st-takla.org/books/en/pope-shenouda-iii/spiritual-means/account-of-oneself.html