Any worshipper of God can use the word 'faith' if when he does not believe in the Truth. He may have the name of a believer, but does not have the heart of one.
Faith does not automatically make you a believer if you are born a family which believes in the existence of God. But faith has a much deeper than this, it encompasses the whole spiritual life, performs miracles.
At one occasion, the disciples of the Lord were unable to heal a epileptic boy from the demon, so they asked the Lord for the reason and He answered them "Because of your unbelief" (Matt. 17:20) and rebuked them by saying "O faithless and perverse generation" (Matt 17:17).
A generation be unbelievers, which God came for, but where they really unbelievers? How alarming! Here the Lord says to His disciples "I say to you, if you have faith as a mustard seed, you will say to this mountain, `Move from here to there,' and it will move" (Matt. 17:20). Truly, what is this faith of a seed which can move a mountain? As the apostle says "Examine yourselves as to whether you are in the faith. Test yourselves" (2 Cor. 13:5).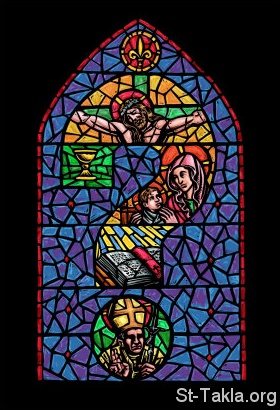 The Bible tells us of something strange, more dangerous... what is it? It is the state of a human being who seems to be believing in God, he prays and performs miracles but he does not believe in Truth! and even not accepted in the eyes of God! Here is what the Lord Himself said "Not everyone who says to Me,
`Lord, Lord,' shall enter the kingdom of heaven" (Matt 7:21). The Lord continues "Many will say to Me in that day, `Lord, Lord, have we not prophesied in Your name, cast out demons in Your name, and done many wonders in Your name?' And then I will declare to them, `I never knew you; depart from Me, you who practice lawlessness!' (Matt.7:22-23).
What shall we call those who say 'Lord, Lord... in your name we did this and that'? Are they really believers? Maybe it's only an apparent faith, or faith by name, or only mental faith, but it's not the real faith accepted by God.
What then is the real faith which is accepted in the eyes of the Lord? We ask Him and He answers "Not everyone who says to Me, `Lord, Lord,' … but he who does the will of My Father in heaven " (Matt. 7:21). This also reminds us of the story of the five virgins who also used the expression 'Lord, Lord,...' and they stood behind the closed door saying "Lord, Lord open the door for us", and they heard from the Lord the clear and terrifying answer "I tell you the truth, I don't know you".
The expression 'Lord, Lord' does not necessarily help if you are awaiting the bridegroom with a lamp without oil, or if you arrive after the door is closed.
Therefore what is faith? and what is its connection to oil which signifies the Holy Spirit? and what is its connection with the will of God who is in heaven?
This faith is alive and is accepted by God as we'll see later... Faith is not simply a belief but also a life.
You can test it by its fruits in your life... as the Lord said "You will know them by their fruits….every good tree bears good fruit, but a bad tree bears bad fruit. Therefore by their fruits you will know them" (Matt. 7:16-20).
This is how you can test yourself: Does your faith bear fruit? Because 'by their fruits you will recognise them'.
This is what John the evangelist teaches us "Now by this we know that we know Him" how? "If we keep His commandments. He who says, "I know Him," and does not keep His commandments, is a liar, and the truth is not in him " (1 John 2:3-4), as we have discussed this issue before here on st-takla.org in other sections. Faith is tested through a life of obedience to God's commandments, and he who does not have this obedience is not considered a believer of Truth, and can not claim to know God.
The Apostle Paul lists in his letter to the Hebrews (Heb. 11) wonderful examples of faithful men. They show practical faith in their private lives. Enoch for example; the bible did not say that he defended his belief like other heroes of faith. But Enoch was a hero of faith because he "He pleased God." (Heb. 11:5) and "Walked with God" (Gen. 5:22,24).
You may not be as spiritually knowledgeable as were the apostles, but no doubt you can also lead the same life as our father Enoch, who walked with God. You can live like other men of faith who St. Paul mentioned "They were strangers and pilgrims on the earth… they desire a better, that is, a heavenly country." (Heb 11: 13,16).
our Father Abraham was a man of faith who "Obeyed when he was called to go out " (Heb. 11: 8), and went out after God "Not knowing where he was going." He was a man of faith in accepting God's timing and even when he was to sacrifice his only son, confident that God can raise the dead (Heb. 11:17-19).
His wife Sarah is also considered a hero of faith because she believed the Lord for "She judged Him faithful who had promised." (Heb 11:11).
Heroes of faith are not only those who defended their belief, but are also those who believed in the Lord, walked with Him, who were righteous and pleased Him (Heb. 11:33). Also those who "Were tortured, not accepting deliverance, that they might obtain a better resurrection." and those who "Had trial of mockings and scourgings, yes, and of chains and imprisonment. .. of whom the world was not worthy " (Heb. 11:35-38) "And all these, having obtained a good testimony through faith" (Heb. 11:39). In all these examples, the bible gives us a wide spectrum of the meaning of faith.
Paul tells us that faith "Is the substance of things hoped for, the evidence of things not seen" (Heb. 11:1).
You hope for many things after death. You hope for eternal life with angels and the saints, to see the Lord in Paradise and resurrect from the dead into a spiritual body. You desire eternal peace after the general resurrection. Faith is without any doubt, complete confidence that these matters exist without having seen them.
---