A Fish Swallowing a Man Whole? | Jonah - "The Lord, his God" | How many days exactly did the people of Nineveh fast? Is this fast the same as Jonah's fast? | Readings Recommended during Jonah's Fast | Subtly, God Spoke to Jonah | The Sign of the Prophet Jonah | Jonah the Prophet and the Lord Christ | The Prophet Jonah, the Whale, and the Great City of Nineveh | Jonah and Jesus | The Mystery of Jonah | The Flight of Jonah

Some excerpts from the Commentary...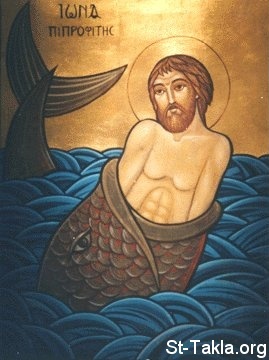 Although it is one of the shortest books of the Old Testament, the Book of Jonah has a very important place in the Church's liturgical year. The Church sees within this book's simple story an icon of Christ symbolically represented.

Unlike other prophetic books, the Book of Jonah does not contain "words of prophecy," as such, but rather it tells a tale of Jonah's personal encounter with the Lord. Using a story motif, Jonah's prophecy speaks to us not with words but with symbols. Reading these symbols spiritually, we behold the mystery of salvation in Christ exemplified in imagistic types. Indeed, it is no wonder that this book also portrays a unique instance in the Old Testament of God's love and concern not just for His own people, Israel, but for a nation of Gentiles who were actually Israel's enemies. Here again we find an archetype of Christ's mission of salvation extending beyond Israel to embrace the whole world, all the enemies of God.

On a scriptural canvas painted in symbolic imagery, God presents us with an icon of Christ in the Book of Jonah. But He also shows us ourselves in the people of Nineveh, the ship's mariners, and even Jonah.

Whether in the world or the ark of the Church, whether abject evil-doer or blessed Saint, we are all of us sinners, perpetually in need of renewal in the "Sign of Jonah", the glorious restorative power of the Resurrection in Baptism.

May God have mercy upon us, be gracious to us, and accept the fasts of the Holy Church, as He accepted the fast of the people of Nineveh and spared them. And may our dear Lord also bless us through the prayers of Jonah, the great prophet.
Fr. Antonious Henein
---