Saint Bashnouna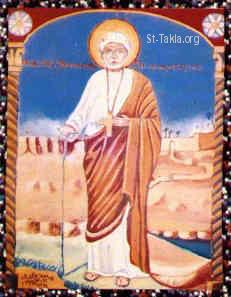 St Bashnouna was martyred in the year 1164 AD, May 19th. (24 Bashans / now 1 June). He was a monk in St. Makar monastery, in Egypt, During the fighting between the men of prince Dergham and the men of El-Wazir Shawer and during the rule of El-Aaded the Fatimid, in the later part of the twelfth century, this monk was arrested.
They tried to make our saint forsake his faith in our Lord Jesus Christ, but he refused firmly, and with courage, so they burned him alive, and he received the crown of martyrdom. The faithful took what they found of his bones and carried them to the church of Abu Serga in Old Cairo, and they buried him there. Many miracles have occured through the prayers and intersessions of this great saint and martyr till this day.
May his prayers be with us all, and glory be to God forever. Amen.
---