The Arch-priest 'Abouna' Hegomen
Fr. Bishoy Kamel Ishack Asaad
(1931-1979)
He was born Samy Kamel in Sirrs-Alliaan, Menoufia, Egypt, in 1931. Raised in Damenhour, Egypt where he received his early education. He attended the school of Sciences, Alexandria University, and graduated with B.Sc. degree in 1951. While working as a Science teacher in public schools, he continued at Alexandria University and received a degree in literature in 1954 and was appointed an instructor at the Education College, Alexandria University. He was ordained priest in December 1959.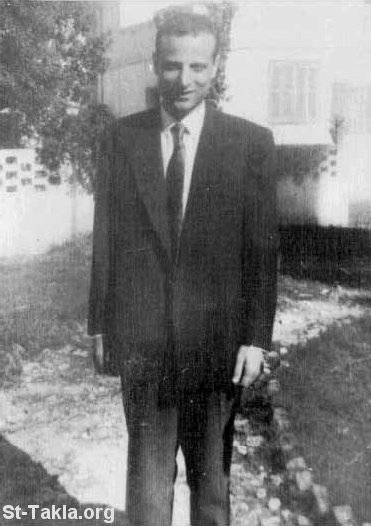 Not many people talk about his early life as a teacher, Sunday School Servant, and the free tutoring he offered to kids who needed help, because he was known as the priest who was a buzzing bee collecting concentrated essences and producing the pure honey that sweetened the lives of all who knew him, or even knew about him. Some of us can not forget the messages that went back and forth between this young budding priest in the district of Sporting, Alexandria, and an Elderly Priest, in Shoubra, Cairo (the late Father Mikhail Ibrahim whose remembrance is above mentioned). The elder would send the greeting to the younger asking his prayers. Now that they are together in paradise, they are seeing the not-seen and hearing the not-heard and glorifying the King of Kings and Lord of Lords, whom they both truly loved, indeed.
He summarized his love for the little flock in these words: "They are your children Lord: Some are good, others are evil, other are wasting themselves ... they all have one thing in common: They are your children ... I am the servant of your children .. I am a servant and have no right to insult or despise any of them, because if I do, I would be insulting you or despising you ... I only can serve them, love them, and assure them of your certain promise that you loved them all because it is you who carries the sins of the whole world" (translated, shortened, and paraphrased from Arabic).
When he felt the urge to dedicate his life to serving Christ, he told one of his fellow Sunday School teachers: "Would it be possible for some of you to pay my wages which I am receiving now so I can leave that job and become a full time servant of the Lord?" When he became priest, he kept that promise of full time service to the last breath. He so despised material things, that material things were thrown under his feet. An eye witness saw him one night at the Church puzzled because a young woman came asking for financial help. She was followed by a student asking for money to pay college registration fees. This little worry did not last long. Our late Fr. Bishoy asked them both to wait. While waiting, a little girl walked in and handed him an envelope stuffed with money. When he asked her name, She just answered saying: "My mother Mary sends this to you." All the needs were met that night. In Egypt we celebrate feasts (Christmas, Epiphany, Easter) at night. The late Fr. Bishoy Kamel أبونا القمص بيشوي كامل always went to distribute food and gifts to some of the needy in his congregation after the service. Because he always felt the importance of sharing the meaning of the Lord's feasts. His wife got used to it.
He started St. George Coptic Orthodox Church in Sporting, Alexandria (where he is buried). Some advised him not to accept having associate priests, but he was not the one to fear competition. The number of priests at the Church reached 5 and all had more work than they could do. By the standards of his time, he was but a young man running a big Cathedral and very good at it!
He was instrumental not only in increasing the number of priests in his church, but also in starting new churches. The following are some of the churches he helped found: St. George in Sporting; St. George , in Hadra; Arch-Angel Michael, in the district of Mostafa Kamel; St. Takla Hemanout, in Ibrahemia; St. Mary and St. Cyril, in Cleopatra; St. Peter; in Seedy Bishr; St. Mark in Los Angeles, California. He indirectly helped found the Church in Denver, where I served; and the Church in Houston among others. Not including his efforts in Europe and Australia.
The purchase of a church for the early Egyptian Immigrant to the USA in Los Angeles is a wonderful story of faith and trusting the Lord: The congregation was just starting in the late 60's when Fr. Bishoy Kamel was sent to Los Angeles in 1969. They initially used a Syrian Orthodox Church building. Then came the opportunity to purchase a $100,000 existing church building which was previously used by a Russian Orthodox Congregation on Robertson Blvd., Near Hollywood. The congregation had $500 in the treasury. Some of the prominent people warned Abouna (Fr.) Bishoy: "Don't get us in debt!" In a short order he raised $23,000. Some of this money was small loans from new immigrants who had very little to give. He took a cab and went to the bank to pay the down payment, and sign the papers for a mortgage loan. In his excitement, he left the unmarked envelope full of cash ($23,000) on the seat and when he realized it the taxi was gone. He went in, told the loan officer that he misplaced the money, and needed sometime to find it or replace it. He went home sad feeling he had failed everybody, and on top of it all some will think Abouna is a thief?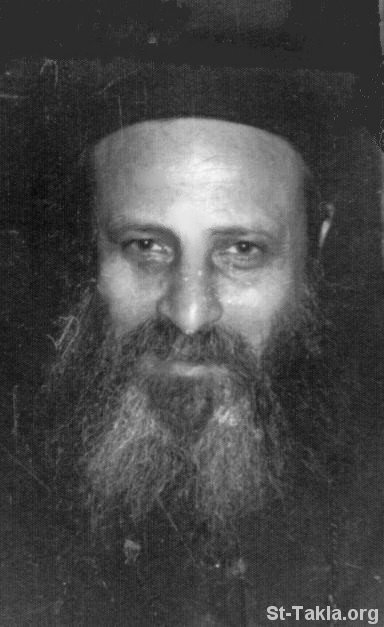 Abouna had an unpleasant day, the envelope was not marked. He could not think of a way to prove he had money! After midnight, there was knock on the door. Fr. Bishoy asked Tassony (Sister) Angel his wife to open the door. Was surprised to see the cab driver. The man confessed. After you left, I looked back so that envelope. Picked up and found it full of cash. Not marked. I though about keeping it. Drove around and around. Then I said this man must be a minister or a priest or something. But, even if I want to give him the money back how could I find him. I then thought if I describe the way you are dressed and the way you looked, somebody might be able to lead me to you. That is how I found out that you must be Coptic (Egyptian) and the way to your apartment which was then church address. The man refused to accept the customary 10% reward and even paid a donation!
Fr. Bishoy loved the cross dearly, no wonder his departure was on the third day of the feast of the Cross. He gave the titles: "Under the feet of the Cross", and "With Christ Crucified" to two books he wrote. His most favorite possession was a picture of Christ crucified and Mary Magdeline kneeling under his feet. This picture he hanged on the wall above his bed.
Fr. Bishoy Kamel was always concerned about his own salvation. He rarely talked about his personal life. He and his wife Angel lived as virgins. He always hid himself behind the cross. His ministry was that of a true loving and caring Father, Brother, and Friend. Not just a priest performing the duties of his office. On the nights of church feasts, and as soon as he completed the church service, he ran out to visit those in need. Accompanied by his wife or going separate ways, they did as much as they could, and brought back some of the people from out of town to their home the night of the feast.
He did not allow people to speak evil about others in his presence and always had something nice to say about others, especially, those who differed with him following the words of the Apostle: "Love suffereth long, and is kind, Love vauneth not itself, ... thinketh not evil .." (1 COR 13:1-13).
His preaching was deep in spiritual meaning, and seasoned with the word of God presented in practical terms. It was supported by examples from: the Bible, Church history, tradition, and the life of the Saints. His voice in the Liturgy was low (you can even say weak) but very comforting to the listeners. This brought great multitudes to church not only for the liturgy but for the evening prayers as well. He was so humble, many a time he wondered why people praised him. He always felt he was not deserving, as he always felt he did not do enough. His example is clearly felt in those who new him and also in those who just heard about him. His departure was certainly early, but it was the will of God that he be in paradise to intercede for us. Glory be to God in all His Saints. Amen.
* Download Father Pishoy Kamil's Holy Liturgies mp3
* Father Bishoi Kamel's Photo Albums
©
st-takla.org
:
Saint Takla Haymanout Website:
General Portal for the
Coptic Orthodox Church
Faith, Egypt
/ Contact us at:
Bible | Daily Readings | Agbeya | Books | Lyrics | Gallery | Media | Links | Contact us
https://st-takla.org/Priest-Fr-Bishoy-Kamel.html